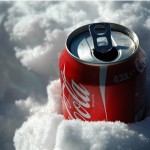 We continue in our quest to re-educate the masses about the benefits of distilled water, and to stop the spread of strange myths that seem to be all over the internet regarding distilled water.  Some of these 'facts' range from the silly to the downright absurd!
Take, for example, the idea that apparently some of the most commercial fizzy drinks are not good for your health because they use distilled water in their ingredients…  First off let's pretend that Coca Cola did use distilled water in their ingredients (which they do not, it is in fact carbonated water), let's take a look at some of their other ingredients and see what might be a bit worse than you than distilled water;
Sugar
Caffeine
Phosphoric acid v. Caramel
Natural flavourings
Now it would be very strange for, out of that list, to be the most worried about distilled water, which in case you didn't know is pure H2O.  It makes absolutely no scientific sense that somehow the inclusion of distilled water in Coca Cola is the reason it is detrimental for your health.  It would certainly make more sense to be more concerned about the amounts of sugar or caffeine you might be drinking.
If you have any other questions about the myths that surround distilled water, or any other queries about our product please contact us on [email protected] or call us on 0845 006 3309.