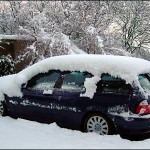 With many countries across the world still suffering from severe weather conditions, in particular
snow
-storms, putting public transport on hold and generally making everyone's lives difficult, tips and hints as to how to get yourself on the move again can be invaluable.
As anyone who is a regular driver will know, starting a car in the cold can be something of an impossible task. This week, the Distilled Water Company comes to the rescue of said drivers, with some tips on how to deal with motor vehicles in freezing conditions:
– Keep your battery in good shape by removing the cell caps, checking the acid level, and by adding distilled water until the liquid puckers in the fill hole of each cell. It is then you should replace the cell caps.
– Maintaining battery leads is also advised. Once you've removed them, you can clean them with a baking powder and water paste.
– Filling the radiator with a 1:1 ratio of water and antifreeze will help protect the engine in freezing conditions
If you've got any other great
distilled water
tips or uses that you'd like to share with our readers, please do get in touch- we'd love to feature your wisdom in our blog!