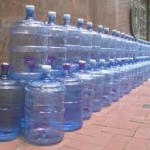 Distilled water is free from all kinds of contaminating substances like debris and bacteria. It does not have any taste due to the absence of any minerals, trace elements, etc.
Whilst you cannot drink our distilled water, The Distilled Water Company's excellent quality water can be used in myriad other ways. Here are just a few:
Lead acid batteries used in vehicles like cars and trucks require a top-up of water at regular intervals of time. Presence of various ions in plain tap water can cause damage to the battery and lead to reduction in its lifespan. Distilled water, free of such ions, is commonly used in such batteries.
It is often preferred to tap water in automotive cooling systems too. This is because the ions and minerals present in tap water are usually corrosive in nature and tend to wipe out the anti-corrosive additives present in the radiator.
It is used in steam irons for pressing clothes. Absence of any mineral substances in distilled water enables the iron to function properly for a longer period of time.
It is used in aquariums to give the aquarium fish a longer life.
It is used during surgical procedures where clean water is a must to prevent any kind of infection. For the very same reason, it is also used to wash and clean wounds.
Distilled water is versatile, indispensable and a fantastic resource to have for multiple reasons, and The Distilled Water Company gives you excellent quality at a great price.