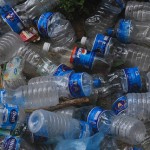 It's a well known fact that bottled water is a huge business, with over 2 billion gallons being sold per year. It's a huge profit maker for the larger companies and really it's no surprise considering how much is charged for one bottle.  Prices in London for a 500ml bottle can range from 40p to the outrageous £2.  But it seems people always end up buying them, next time when you're on a train take a look around and see how many people have bottles of evian, volvic, or any of the other main brands in their hands.
Now there's a couple of reasons why it makes a lot more sense using distilled water rather than bottled mineral water.  First is the price consideration, we can deliver a two 10 litre bottles of distilled water to your door for £31.98 and then all you need is one plastic bottle that you can refill every day. Not only are you helping the environment but you're not wasting precious pounds on buying a new bottle every single day.
A lot of environmental organizations also have a big issue with the amount of waste plastic that is developed by people buying these bottles and then simply throwing them away once they're empty.  The argument some people use for drinking bottled mineral water is that it is better for you than tap water, but if you have a regular delivery of 19 litres of distilled water you are ensuring you're drinking the purest water you can, whilst also not doing the same amout of damage to the environment you would be if you buy mineral water.
For more information about our services, delivery times, or prices for larger orders please contact us on [email protected] or call us on 0845 006 3309.