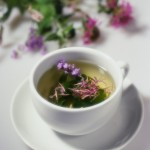 If you are interested in finding an alternative to your usual morning cup of black tea or coffee, there are many interesting and great tasting herbal teas out there. Many also have added health benefits, from boosting your circulation to aiding sleep. There's a herbal tea to suit everyone and to treat most ailments.
Chamomile is a well known herbal tea, boasting relaxing, sedative and digestive properties. It's perfect at any time of day, but particularly after a meal or before going to bed.  Lavender, rose, lemon balm, stinging nettle and oatstraw are all also known for their relaxing properties.
The common stinging nettle makes a refreshing herbal tea, and is full of minerals and nutrients, not least of all silica and calcium, which makes it a great drink for healthy bones, teeth and nails. It also contains quercetin, which is a natural anti-inflammatory, making it good for arthritis and allergy sufferers too.
Peppermint tea is another digestive aid, and can be combined with green tea and a bit of honey to make a lovely drink popular in North Africa and very much part of Morrocan tea culture.
You can buy many types of herbal tea ready prepared in tea bags. However, you can also make your own blends at home, and it can be fun experimenting. You simply need a ceramic or glass teapot, ideally some distilled water and your chosen herbs. The distilled water is a better medium for extracting the medicinal qualities of the herbs than ordinary tap water, and also results in a smoother tasting drink.