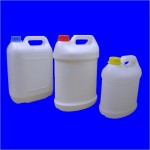 It's an exciting time here at the distilled water company, and not because we're continuing to do our job so fantastically that business is booming, and our list of wholesale clients is growing nicely. Of course, all of this is great news, but we're currently enthralled by our new jerry cans. We're replacing the cardboard container, which contains the 15 litre bag of distilled water, with the plastic jerry cans for a number of reasons. The sturdier plastic means a lower risk of damage during transit, and thus your distilled water arrives in tip-top condition every time. Not only this, but once we drop your water off to you- which can be pretty heavy- the useful handle on the top of the container makes for simpler transportation by foot.
But that's not all, Ladies and Gents…the containers now hold more liquid, up to 20 litres, which means less packaging, and of course being kinder to our environment in the long-run.
If you have any questions about the changeover, or would like to place an order for distilled water with us, please do get in touch and we'll be happy to answer any questions you might have. We look forward to hearing from you!