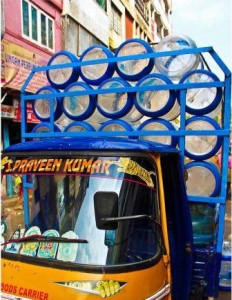 A motorized rickshaw which runs on 80 per cent distilled water and 20 per cent liquid petroleum gas has been developed by students at the Mechanical Department of the MVJ College of Engineering, in Bangalore, India.
The vehicle does not actually use distilled water as fuel; instead, the water is used to improve the efficiency of the accompanying petroleum.
An oxyhydrogen [HHO] kit is built into the prototype rickshaw. This uses electrolysis to form oxyhydrogen, by breaking down the bonds between the hydrogen and oxygen in the distilled water. The oxyhydrogen is then mixed with the liquid petroleum gas at the point of air intake. The students report that this results in improved combustion efficiency and a cleaner combustion chamber.
With a lessened dependency on fossil fuels, the hybrid engine design is potentially both more environmentally friendly – with a lower carbon footprint – and cheaper to run than a purely fuel-based equivalent.
"The students of the MVJ College of Engineering bring a message to all citizens to start using and thinking of an eco-friendly lifestyle," says Kalam Badarinarayan, the principle of the college, which is located in the Whitefield region of Bangalore.
While the futuristic dream of creating fuel directly from water might still be unattainable, this green-minded development is definitely a step in the right direction. For your distilled water needs – whether you're filling up the tanks of your future hybrid car, or simply topping up your fish tank – come to The Distilled Water Company for excellent prices and a speedy delivery.