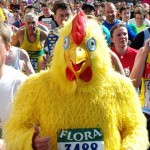 It has been a few weeks since the London Marathon took place on the streets of our beloved capital, and thousands of runners took on one of the most challenging things a human being can do; pushing themselves to their physical and psychological limits as they pound the roads in aid of their chosen charity. Being fascinated by all things water-related, we at the distilled water company thought we'd quiz our mate James about how he fared when he ran the marathon this year, about how much he drank, and the challenges of finding bottles thrown all over the road.
"Well", said our mate James, "as you run, there is water available every three kilometres, and then Lucozade every five. I drank an awful lot before I started running, that amount was definitely sufficient". Fascinating, said we, but what about the bottles? "That was a little trickier", said James. "Dodging them along the road was difficult, but essential for avoiding falling flat on one's face". Quite.
If you have any marathon, or indeed any other water-related tales that you'd like to share with us, please do get in touch. We can also answer any questions you might have about our products, and place an order for you, should you so wish.