Following the astounding success of last week's Haiku blog, and the thousands upon thousands (might not be entirely true) of requests we had to treat you to more poetry, we present the next in this unique and artistic blog series which celebrates the art that is distilled water. This week, we're exploring acrostic, an poetic form that blossomed in Ancient Greece (no, we didn't know that either…).
Don't you know the only place to go,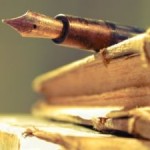 In case you need something for your home or lab?
Simply pick up the phone and dial us now,
Talk to our friendly team who'll help you out.
Incredibly, we'll deliver before you know it,
Little jerry cans with useful handles.
Lifting them needn't be a chore,
Every driver will leave them in a handy.
Don't really recommend you gulp it down,
Wiser to keep it for more technical use.
Any watery queries- we're here to help,
Talk to us about spring or deionised water.
Even distilled, our speciality;
Runs through our veins (sort of..).
If you have any queries about any of our products, or would like to let us know what you think of our poetic potential, please do get in touch. We look forward to hearing from you!