We like to think we're a creative bunch here at The Distilled Water Company, and to prove it, we've decided to set ourselves our very own poetry challenge. Each week for…well, a little while, we'll be penning a new poetic delight for you to enjoy. To mix it up a bit, we'll be taking on a different genre of this great literary art, beginning with the delightful and totally underappreciated Japanese form of Haiku. So, please be kind, and read on for our first efforts:
I love it distilled,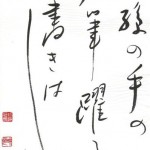 Water is best if it's pure.
Best not to drink it.
It's made by heating,
And catching all the vapours.
Make sure it's cool first!
Distilled water co.,
Is the only place to go.
Take our Jerry Can.
So, devoted readers, there is our very first attempt at Haiku. Not too shabby, if we do say so ourselves. If you're as keen on distilled water as we are, why not put your own pen to paper and get scribbling; we'd love to read your poetry. You can of course also post your contribution at the end of our blog for everyone to marvel at. Next week we explore the humble Acrostic poem.